welcome! your music is on it's way
Please check your inbox (or junk mail) shortly. Not subscribed? SUBSCRIBE NOW
While you wait, why not have a little fun. Check out some music, watch some video, listen to a playlist or read a blog..!

Hey it's Fyerfly here. I hope you really enjoy the music!
I thought it might be fun to share a little about myself. I'm guessing you're into Sadcore & maybe a little sultry blues or jazz, and that we've a bit in common (you like Norah Jones? Lana Del Rey? Kate Bush?)
As a poetry-writing teenager, I was really into alternative rock – Pearl Jam, Alice in Chains, Stone Temple Pilots – but I was also a classically trained musician with a love of jazz & blues – Miles Davis, Billie Holiday, Nina Simone. And then along came Tip Hop, an evolved blend of the two worlds. Portishead lead me to Massive Attack, to Tricky…
When I started writing my own stuff, I didn't know where my music fit. But I'm thinking maybe somewhere here, amongst my influences. No matter my mood, my songs take me into a world of peaceful release. Through my voice, my soul is free. It drifts to whisper into each ear it passes. To share a vulnerable truth with my audience; that we are all hiding, that we all want to be heard – to belong. I want to soothe my audience & let them know they're not alone.
If you're like me, you've probably got a lot going on. So I hope you find solace in my collection of Sadcore & Torch Songs (here's my latest) that have a bit of a Tim Burton slash David Lynch feel to them.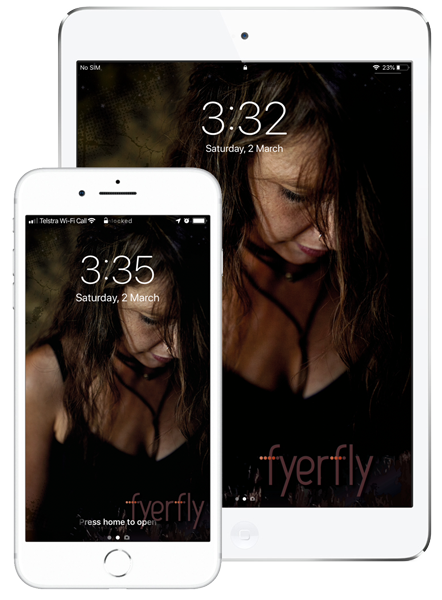 Download this wallpaper artwork to add to your iPhone, Smart Phone, iPad or Tablet for $2.50 AUD.
I'll be in touch again tomorrow. Until then, enjoy my gifts with love & light. Fyerfly
ps. remember to check your junk mail if you don't see my email in your inbox!